Super Savory Salads To Make In September
This list of savory salads that make a meal will have you eating salads every day of the month, all year long.
FoodieCrush
This Mexican inspired combo makes any meal a fiesta! Get crunchy, creamy, sweet, and savory in every flavor-infused bite thanks to roasted butternut squash, cranberries, pepitas, and a tangy dressing.
Love and Lemons
Use up the last of summer's sweet corn, and pair it with silky sweet potatoes, seasonal apples and a spicy chipotle glaze.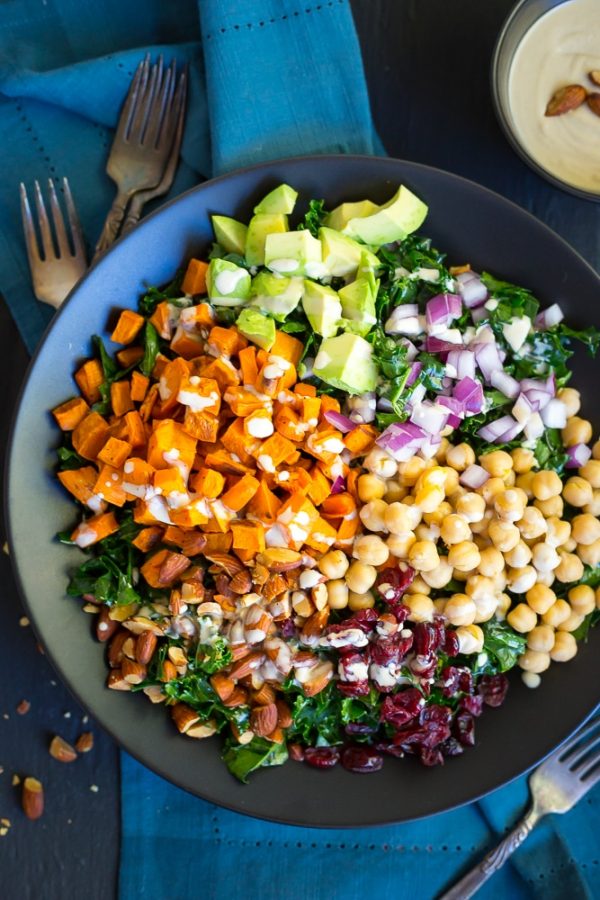 She Likes Food
Be the boss of your day with this super food lunch or satisfying dinner salad. Chopping all the ingredients into uniform sizes adds so much texture in each nourishing forkful. I like to get a bite of everything at once!
Cookie and Kate
Veggie-friendly and protein-packed, this hearty salad makes the most of basic veggies and a can of beans. Toss in roasted pumpkin seeds for plenty of crunch.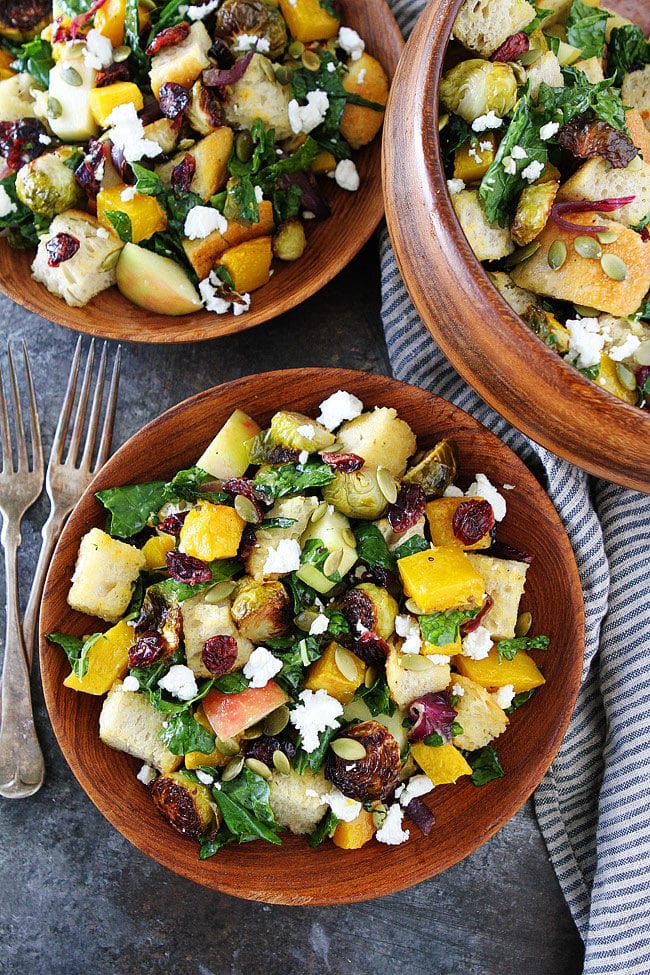 Two Peas and Their Pod
Two of my favorites–bread and salad–sign me up! Add a healthy dose of roasted veggies, tart cranberries and juicy apples for a fancy dinner side or just a fancy lunch for yourself.
Iowa Girl Eats
Fire up the grill while it's still reasonable outside and dig into this salad that even a meat and potatoes man (or woman!) will appreciate.
How Sweet Eats
Crunchy munchy honey roasted cashews, crispy homemade croutons, creamy goat cheese and velvety buttercup squash make this a seasonal slam dunk–extra points for the maple dijon dressing.
Cafe Delites
This med-style salad is chock full of heart healthy fats including salmon, avocado, olives, and tons of fresh veggies. A double-duty marinade and dressing make this a snap to put together.
FoodieCrush
I'm so ready to make Brussels sprouts a thing! Dive into seasonal eating with shaved sprouts, sweet beets and smooth goats cheese, accented by toasted pecans and a tangy mustard dressing.
Fit Foodie Finds
Your taste buds won't know what hit 'em when you load your plate with this tantalizing Thai dish. Grilled corn, peppers, and plenty of zing from red chili paste will brighten up any sad desk lunch.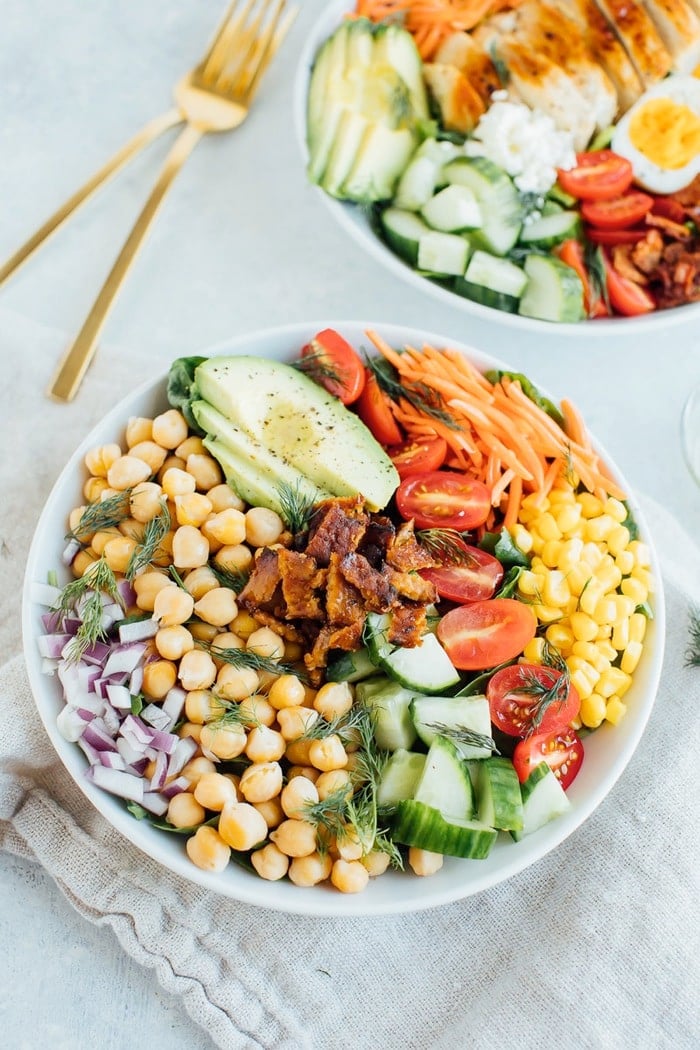 Eating Bird Food
Say what? A totally veggie-based dish that still packs 19 grams of protein? It's true! Lots of satisfying texture from chickpeas, crunchy tempeh bacon, and greens will have even the most devoted meat eater munching through this lunch.
FoodieCrush
Like your favorite light-knit sweater, this salad belongs on your table as the perfect transitional piece between the last days of summer and early Fall. Roasted squash, crunchy apples, and a a spiced apple cider vinaigrette add seasonal flair, while keeping it light.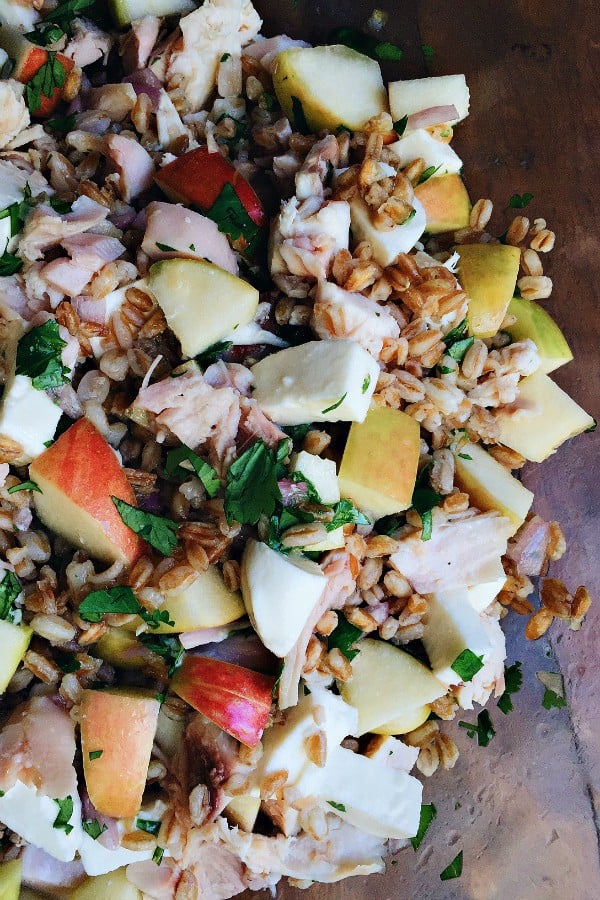 Reluctant Entertainer
This healthy blend of nutty grains, fruit, and cheese makes for a beautifully balanced lunch or striking dinner side. This recipe calls for farro, but you can easily swap in any leftover grain you have on hand.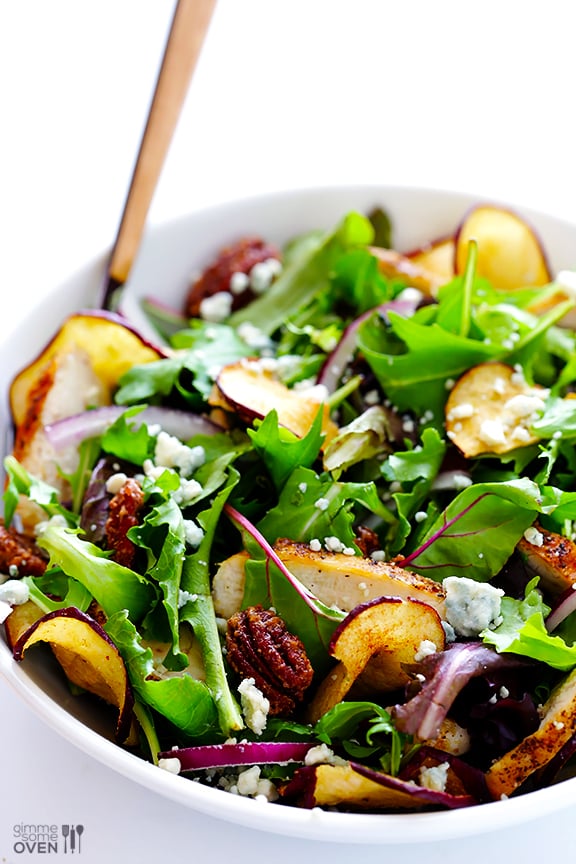 Gimmie Some Oven
We don't have a Panera Bread here in Utah, so it's my first fast food go-to if I'm in a pinch while traveling. I always order this salad, so I can't wait to make this copycat version full of thinly sliced crispy apples, pecans and juicy chicken at home.
With Salt and Wit
Another day, another kale salad. But this colorful melange of hearty veggies sets itself apart from the crowd with a luscious dressing, and texture galore thanks to creamy chickpeas and roasted peanuts.